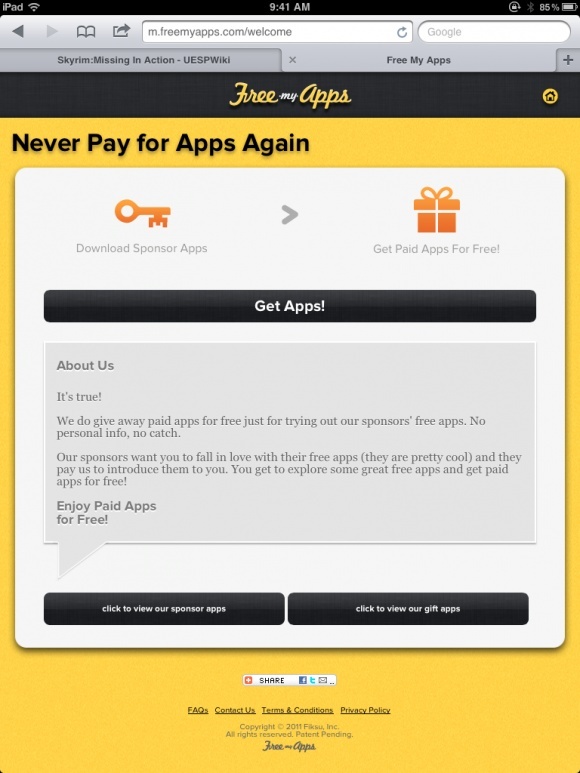 How would you guys like to know about an easy way to get free paid apps that works? I'm not talking about cheap little freebie apps that you will only play a couple times but real apps that you actually want. I discovered this website called FreeMyApps.com. What it is is a site where you try out apps that they list and get credits for trying them out. After you've accumulated enough credits, you can trade those in for popular paid apps like Angry Birds, Cut the Rope, and Bejeweled.

Here's how it works. Visit the website on your iOS device. You'll be asked to download a profile file that allows the site to recognize your device and track which apps you've tried out from them. It's a tiny file and doesn't make any changes to your system. Once installed, you're pretty much ready to begin.
Get Free Paid Apps for free via MyFreeApps.com
FreeMyApps gives you a list of free sponsored apps you'd like to try out. Each is worth roughly between 75 and 150 credits depending on the app. What's great is that most of these apps are apps you would have tried out anyways, so why not get some sort of compensation for using them? You'll be asked to download the app and try them out for a minimum of 30 seconds each. Again, that's something you would have done anyways.
After you've used the app for that amount of time, you go back and visit the web page where you left off. Give it a few seconds and it will automatically redirect you and add your credit balance to your account. I suggest trying out the apps with a higher credit balance as within a matter of a few apps, you'll be able to get the really good apps for free. For example, Angry Birds is worth 390 credits. That means if you try out 2 adds worth 150 credits each, you'll have enough to trade your credits in for Angry Birds as well as have credits left over.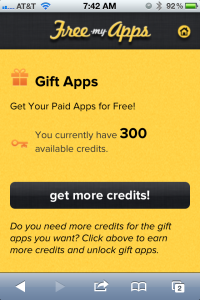 When you're ready to redeem your credits, just click the "view gift apps" button and browse all the available paid apps they have participating. You will be surprised by how many really good apps and games they have listed. Click on the app you want and it'll redirect you to the App Store along with a promo code to redeem the app. After that, you're the proud owner of a new free paid app.
Some of you might think this is a scam, but it's not. I tried it out this morning and it really works. So far, I've only picked up Angry Birds for free but I plan to use to to get Skyfire, Bejeweled, Angry Birds: Seasons, and some others. I plan to use it a few more times so I can pick up all the really good games and then probably just delete the profile file the site installed just to be on the safe side.
If you want to try this out, point your Safari browser on your iOS device over to m.freemyapps.com to get started.